Arjuna Temple in Dieng Kulon Village, Banjarnegara District
---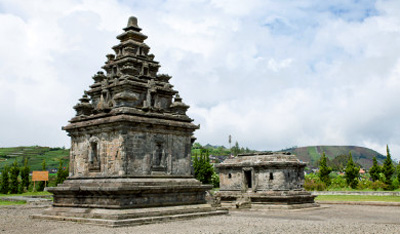 Travelers have many reasons to come to Dieng Plateau. The most common one is to visit majestic temples that scatter in several locations of such amazing tourist spot. When it is about Dieng Temple, it is likely Arjuna Temple is considered the most famous one. Located in 2093 meters above sea level, that house of God becomes offers both stunning scenery and an amazing landscape. Being a reminiscence of Ancient Mataram Kingdom, it also attracts both tourists and historians. Not to mention it consists of several temples on which visitors can explore.
The Nuance
Arjuna Temple resides on a land with a measurement of 1 hectare. In the location, Arjuna becomes the prime temple to visit. In front of it, there is Semar Temple. The rest temples that share the same location as Arjuna's are Sembadra, Srikandi, and Puntadewa. All of them look gorgeous, having their uniqueness and beauty. The size of Arjuna temple is 6x6 m and it faces west. The main feature of the temple is called Kala Makara, residing by the entrance. The shape of the roof features several tiers with small towers on it.
Exploring Arjuna Temple
It is safe to say visiting Arjuna Temple is compulsory for any tourists who visit Dieng Plateau. Not only it offers majestic structure, but it also has a nice location, featuring breathtaking nature views and lush plants. Getting around the temple would be a satisfying experience, which is just like in Boko Queen Temple. However, it offers fresher atmosphere and more beautiful scenery. Above all, the route for trekking is available for visitors. With that facility, tourists are able to walk around all the temples that reside near to Arjuna.
Trekking is one thing. Arjuna Temple has other attractions for tourists like a historical or architectural tour. In this case, a help of local guide becomes helpful because he may tell the story about the temple. It is said the structure has been there since the reign of Ancient Mataram Kingdom. By exploring the temple and its features, everyone can learn a bit way of living of people in the past, along with their philosophy and spiritual aspect. Even the temple provides helpful information for tourists.
The next fun activity is photography. Having Arjuna Temple as the background of photography is indeed rewarding. At a special occasion, moreover, tourists can take memorable pictures of Dieng Culture Festival and Jazz performance. The local festival is conducted on Friday while the musical performance is available on Sunday. Both of them are quite merry, featuring the flight of lampions and local kids' dreadlocks shaving. Here is the tip. The best time to enjoy such festivals is between July and August! It is one of the reasons in visiting Arjuna Temple, after all.
Nearby Attractions
Sikidang Crater
Warna Lake
Pangilon Lake
Prau Mountain
Sikunir Hill
Kailasa Museum
How to Get There
The temple resides in Dieng Kulon Village, Batur Sub-district. It belongs to Banjarnegara District, but the best checkpoint to reach the site is in Wonosobo City. Usually, travelers would ride a local bus from Medolo Bus Station and they may spend about 1 hour to get to the site.
Where to Stay
Arjuna 2 Hotel
Gunung Mas Hotel
Puspa Indah Homestay
Budjono Hotel