Sembadra Temple in Dieng Kulon Village, Banjarnegara District
---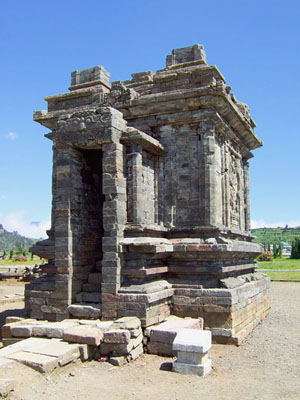 Sembadra Temple is a historical tourist spot in Dieng Plateau and it is part of famous Arjuna Temple complex. The location is in Dieng Kulon Village, emitting a mystical and mysterious aura. It is because people used to use the temple to worship Hindu's God called Shiva. The name Sembadra derives from a character in Javanese shadow puppet story, which is Subadra – a woman who was married to Arjuna. Today, it becomes a must-see tourist spot in Dieng and a good place to do some fun activities like photography, sightseeing, and relaxation.
The Nuance
In terms of size, Sembadra Temple has the width of 4.75 x 5.5 m, featuring simple ornaments on its hole. On the roof, there is a stone ornament with the shape of a blooming lotus. When it comes to architecture, the temple has the shape of a square and its entrance faces the west. Not to mention it features a hole to display an arca. In the yard, some stones are scattered neatly. All of those features make it an interesting place to visit and it is perfect to capture some beautiful pictures using a camera. Above all, the nuance is quite peaceful and refreshing. All thanks to the unspoiled nature of Dieng Plateau.
Exploring Sembadra Temple
It is true Sembadra Temple has no guard, so tourists can do almost anything there. For example, they are allowed to do a family recreation and eat lunch together. One thing, no one is allowed to leave trash or littering. All visitors should take care of the environment when exploring the cave. Not to mention it is important to act politely when visiting such sacred site. Those are common rules when exploring Dieng Temples, after all.
Apart from becoming a good place for a recreation, Sembadra Temple offers unique and beautiful architecture. This explains why most people would carry a camera there. They take either a selca or a group photo in front of the temple. Such majestic structure is worth photo shoots, so carrying a camera is compulsory. As an alternative, visitors can hire a tour guide and let him take care of both the adventure and photography. The service even helps tourists to get around the complex and visit other temples professionally. Not to mention he may tell history regarding the site.
Legend has it Subadra was Arjuna's wife. Not only she is beautiful, but she also has a good personality. Above all, she is faithful. That kind of perfect woman becomes a good moral education to the locals, especially modern women. No wonder, the temple becomes popular for such reason. The thing is the information related to Sembadra Temple is not completed yet. It is said there are other interesting stories behind it.
Nearby Attractions
Balekambang Lake
Sikidang Crater
Gasiran Aswotomo
Kailasa Museum
Gatotkaca Temple
Prau Mountain
How to Get There
As mentioned earlier, Sembadra Temple is located in Dieng Kulon Village and it belongs to Batur Sub-district. For those coming from Wonosobo City, the trip may take about 2 hours. It can be faster if the traffic is low, though. Once they reach Arjuna Temple complex, the next thing to do is to walk for a few minutes to the site.
Where to Stay
Dieng's King Inn
Gunung Mas Hotel
Puspa Indah Homestay