Puntadewa Temple in Dieng Kulon Village, Batur
---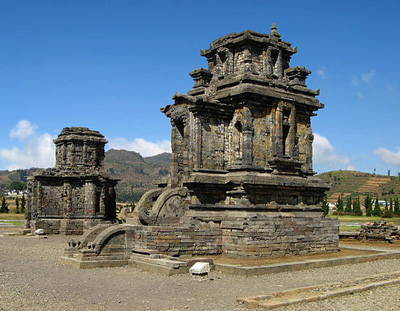 Dieng Plateau is known for its lush nature. Such highland even becomes a prime tourist spot in Central Java, offering lots of attractions such as mountains, craters, lakes, waterfalls, and even temples! The most famous ones are located in Arjuna Temple complex. One of them is none other than Puntadewa Temple. This Hindu structure was made to worship God Shiva and was built in the 8th century. No wonder, lots of historians and tourists would love to spend good times in the site, observing the shape of the temple, taking pictures, and learning the history.
The Nuance
Dieng temples are the heritage of Sanjaya Dynasty. Puntadewa is not the exception. The name derives from Hindu shadow puppet story, as well. The fact is Puntadewa and other temples in Arjuna complex has become interesting objects for study. Each of them has distinct beauty and uniqueness, so they are all worth to visit. What about Puntadewa? It features a "relung" or a place to store arcas, jutting out the wall. The foundation has been renovated and becomes higher, too. Its roof has the shape of a bar and features majestic ornaments.
Exploring Puntadewa Temple
After visiting Arjuna and Semar Temple, it is likely tourists won't miss the chance to reach Puntadewa. Why is that? The distance is only 100 meters, so everyone can easily walk to such structure without hassle. Despite the small size, it is considered higher than other temples that reside in Arjuna complex. It features composite temple stones, having the height of 2.5 meters. There is even a staircase, connecting the land and the small entrance of the temple. Though it is quite cramped inside and some people can't even fit in it!
The most common thing to do in Puntadewa Temple is photography. In fact, some visitors would conduct a pre-wedding photo session there. All thanks to such majestic structure and stunning nature that surrounds the site. The best thing is the temple remains in a good condition. Even the roof remains intact, unlike the majority temples in Dieng, which have been severed. That means it becomes a perfect background for photography. What people need to do is to use a good camera and find the right angles to take pictures.
Puntadewa Temple indeed has a historical value. Its age alone has attracted many tourists and historians to come to the site. It also has aesthetic value, as it has a perfect condition, surrounded by beautiful flowers and breathtaking views of Dieng Plateau. Above all, it is located in Arjuna Temple complex! That means visitors are able to explore other temples (Semar, Srikandi, Arjuna, and Sembadra) in an easy manner. Not to mention other interesting tourist spots reside near to that site.
Nearby Attractions
Sikidang Crater
Prau Mountain
Balekambang Lake
Gasiran Aswotomo
Kailasa Museum
Gatotkaca Temple
How to Get There
A trip to Dieng Kulon Village (Batur Sub-district) takes about 1-2 hours from Wonosobo City. Travelers can take a bus to reach that destination and use Dieng Raya Street for a faster trip. Once they reach the village, the next destination is Arjuna Temple complex, where Puntadewa Temple resides.
Where to Stay
Puspa Indah Homestay
Gunung Mas Hotel
Dieng's King Inn