Ancient Site of Dharmasala in Dieng Kulon Village, Batur
---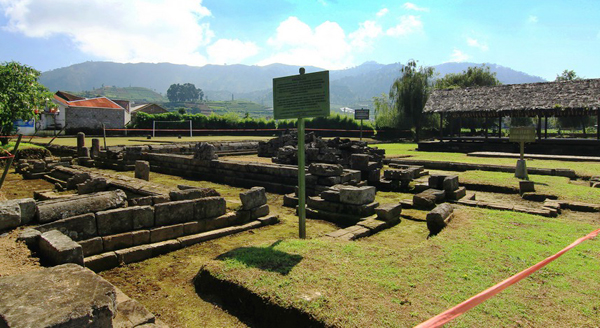 One of the best places to spend a vacation in Dieng Plateau is called Dharmasala Ancient Site. It is located in Dieng Kulon Village, residing near to Arjuna Temple complex. The locals often use the site for numerous traditional events and rituals every year. For tourists, the site offers a good landscape for an adventure and interesting local attractions at a certain moment. Despite the name, such ancient site has undergone several restorations done by the local government. It also becomes a great companion for Arjuna Temple and the other nearby tourist attractions.
The Nuance
Getting on the site, there are several facilities especially the well. It serves as a daily water supply in that location, after all. At the same spot, the locals perform an annual event called Dieng Culture Festival. It is also done in its neighboring temple – Arjuna. The next interesting part is the foundation, which features woods as its main material. Some archeologists, in fact, keep working on restoring the original shape of the site. They even say there was a settlement or village, located near to the temples.
Exploring Dharmasala Ancient Site
The first thing to do in Dharmasala Ancient Site is to learn all available information. It is said the locals used the site either as a resting area or a place of preparation before conducting religious ceremonies in Dieng Temple complex. It is also said Dharmasala was once a classroom despite the lack of proofs. Another significant clue is that the site has a significant relation to Borobudur Temple. The reason is none other than a relief of Dharmasala building that is found in Karmawibangha (one of the walls of Borobudur).
At a special occasion, tourists can also witness a procession called Jamasan. It is a tradition done before the prime event, which is when kids with dreadlocks would have their hair cut. Jamas means "to purify". Apart from being a traditional ceremony, it also becomes a good attraction for tourists. The thing is visitors must come at the right time, which is during Dieng Culture Festival. In this case, they must have talked to their tour agent or hire a local guide. The purpose is to learn the schedule before visiting Dharmasala Ancient Site.
Overall, it is a waste not to come to Dharmasala Ancient Site. The historical value is worth to learn and it even offers numerous culture attractions sometimes. The influence of India culture feels so significant as well. In fact, similar sites can be found in that country. The function is also the same, which is a resting place for those who come for worshipping in nearby temples. Unfortunately, Dharmasala doesn't come in a good condition due to the age. It's worth a visit, though.
Nearby Attractions
Sembadra Temple
Arjuna Temple
Balekambang Lake
Sikidang Crater
Kailasa Museum
Gasiran Aswotomo
Gatotkaca Temple
Prau Mountain
Dieng Plateau Theater
How to Get There
Dharmasala Ancient Site is located near to Arjuna Temple complex. What travelers need to do is to head to Dieng Kulon Village. The trip takes approximately 1 hour from Wonosobo City, but it can be longer if during the high traffic. Next, it takes a small walk to reach the site, which can be done either from the temple complex or nearby parking area (Soeharto-Whitlam Pendopo).
Where to Stay
Dieng's King Inn
Gunung Mas Hotel
Puspa Indah Homestay