Srikandi Temple in Dieng Kulon Village, Batur Sub-District
---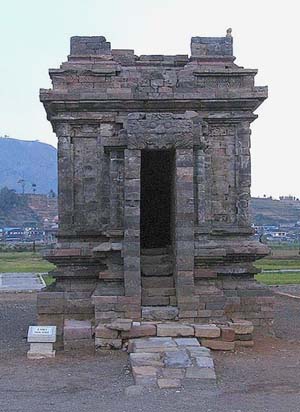 For the next holiday, travelers must try exploring all beautiful temples in Dieng Plateau. Two most famous temples are called Arjuna and Gatotkaca. No one doubts the fact. However, other beautiful temples are also scattered in Dieng Kulon Village. Here is an example. The name is Srikandi and it is the part of Arjuna Temple complex, including Semar, Sembadra, and Puntadewa. That means visitors must not miss the chance to drop by in Srikandi when exploring the complex. It provides numerous activities to do like photography, learning history, enjoying the structure, and much more.
The Nuance
Srikandi Temple has the size of 3.84 m2. Each of its outer wall features carvings, displaying several Hindu Gods. For instance, there is God Brahwa with his multiple heads and arms. The other carvings are God Vishnu and Shiva. That means the temple displays Tri Murti or 3 prime Hindu Gods. In terms of shape, it is similar to a cube. It also features several cube stones on top of the temple. Another feature is the stone staircase, where visitors can walk on to the temple.
Exploring Srikandi Temple
Once tourists arrive at Arjuna Temple complex, they can start reaching Srikandi Temple. It only takes several minutes because Srikandi shares the same area as Arjuna and others. At the site, they can see a small-sized structure with its unique carvings. The problem is that those carvings are not in a good condition. The reason is none other than their old age. No wonder, the temple has been there since the 8th century. Not to mention it has undergone different types of weather. Even some parts of the structure are mossy.
Despite the condition, Srikandi Temple has an interesting architecture. It is a Hindu Temple, after all. It got its influence from India, just like its siblings. The only unique trait is definitely the Tri Murti carvings on its sides. In fact, some archaeologists and historians come to the site to learn and observe those stunning engravements. This also explains why tourists carry a camera and take some pictures of them. No guard is seen in the location, so there is no fee at all for photography.
Even though no people do worshipping in Srikandi Temple anymore, it remains as a sacred structure. That means tourists must respect it well. Littering is not allowed, for sure. Those who carry foods or drinks must take care of the trash after eating! That is the common rule. Also, no one is allowed to steal or scribbling walls! Just because there are no guards, doesn't mean tourists can do those harmful things.
Nearby Attractions
Prau Mountain
Balekambang Lake
Gasiran Aswotomo
Kailasa Museum
Arjuna Temple
How to Get There
It is easy to reach Srikandi Temple. Travelers even can ride a private car to go to the site. From Wonosobo City, they must take Dieng Raya Street and head to Dieng Kulon Village, which resides in Batur Sub-district. Once they reach the entrance of Arjuna Temple complex, the next thing to do is to walk for several minutes and head to the final destination.
Where to Stay
Puspa Indah Homestay
Gunung Mas Hotel
Dieng's King Inn