Dringo Lake in Dieng Plateau, Wonosobo District
---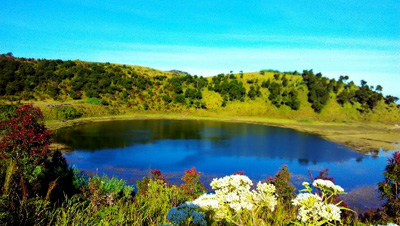 When people talk about a vacation in Wonosobo District, most of them may refer to a highland called Dieng Plateau. The site is famous for its unspoiled nature attractions like mountains and lakes. Even historical temples are scattered in different places of the region! For those who are visiting Batang Sub-district, they have a good vacation destination called Dringo Lake! The name derives from local's plant that grows abundantly there and the lake has become tourists' favorite location to enjoy camping, sightseeing, and relaxation. Many people even say it is a replica of a famous tourist spot in East Java called Ranukumbolo!
The Nuance
In terms of nuance, Dringo Lake offers both peaceful and pristine atmosphere. Not to mention it is surrounded by virgin nature like trees, grasses, and mountains. There is even a nearby hill, on which tourists can climb and explore. When it comes to the size, Dringo is indeed smaller than Merdada Lake. Its beauty is no less than other lakes in Dieng, though. Featuring fresh and calm water, it would mesmerize any visitors. Also, some people building tents near to the lake and enjoy camping sometimes. No wonder, the site is a bit crowded during holidays because of those campers.
Exploring Dringo Lake
Most of the time, people come to Dringo in order to enjoy its pristine nature. Despite the bad accessibility, the site keeps luring more visitors over time. Apart from witnessing the beauty of the lake water, people can also explore its nearby landscape. This way, they can enjoy favorite activities like sightseeing and photography. Some spots are difficult to reach, though. It is because they are located on highlands, so it takes a bit effort to reach those spots. Still, it is quite rewarding because visitors can have the best pictures from there.
The next recommended activity in Dringo Lake is camping. Usually, some people have been on the site early in the morning. They want to get a perfect spot for camping, on which they can see the lake clearly and access nearby hills without hassles. One thing, the temperature is quite chilling in the morning and the site is covered by fog. For those coming for camping, they must have prepared everything such as tents, sleeping bag, jackets, and other important equipment. No facilities are available there, so visitors must not forget to carry those items.
As for the tips, campers should not litter and they must take care of the environment. It is allowed to carry snacks or foods to the site, but tourists should bring back the trash and throw them in proper place later. As long as tourists are aware of such common rule, they can explore and do any fun activities in Dringo Lake. Even witnessing sunrise feels different there, as it features haze and rejuvenating air. It is even better if tourists drink a warm coffee while enjoying the sunrise!
Nearby Attractions
Candradimuka Crater
Arjuna Temple
Menjer Lake
How to Get There
Dringo Lake is located in Pekasiran Village and it belongs to Batang District. From Wonosobo City, the trip may take about 1 hour and the distance is 25.9 km. Once travelers reach Pekasiran Village in Batur Sub-district, they need to do trekking for about 20 minutes. It is indeed tiring, but the trip is worth the effort.
Where to Stay
Puspa Indah Hotel
Dieng Inn