Setyaki Temple in Dieng Kulon Village, Banjarnegara
---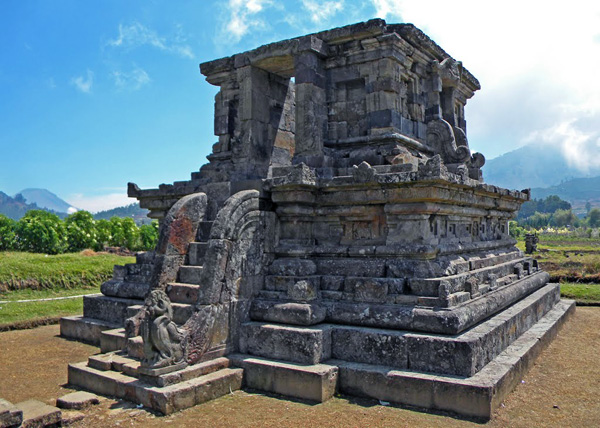 The fact is Dieng Plateau has several complexes of temples. One of them is Gatotkaca complex, consisting of 5 stunning temples. Well, let's talk about one of those structures. It is Setyaki – a mesmerizing temple with an open roof. Unlike other temples, it provides an opportunity to tourists to peek inside the structure from above. According to the locals, that structure was once a residence or resting place, used by the natives. Thanks to those unique traits of the temple. Setyaki has become a prime structure to visit in Dieng Plateau.
The Nuance
Some stones are scattered on the site, implying the local government has not been done with its renovation. Despite the condition, it still has a captivating charm that no one can deny. The name even means something special, which is one of the characters in shadow puppets story – Setyaki. It is the name of a powerful and smart hero, who loves liquor! That habit, drinking liquor, even led him to death during Gada War. Knowing the bravery and peculiarity of that legendary man, the locals decided to use the name as one of the temples that reside in Gatotkaca complex.
Exploring Setyaki Temple
It is fun spending a vacation in Setyaki Temple. One of the reasons is the presence of local potato plantation and savanna, which can be seen all the way to the site. That means it becomes an interesting trekking activity for visitors. Such lonely temple even features flawless scenery like hills and trees. This explains why sightseeing becomes a recommended activity to do on the site. There is even no need to hire a local guide, as the route to the site is easy.
The next attraction in Setyaki Temple is Batu Umpak-Umpak, residing in the north part of the site. The rumor has it. The structure was used as a Darmasala or a short-term resting place. There is also Lingga Patok, which is located in the midst of local farms. It was used as a stake of Perdikan land back then. All of them have a unique shape and historical value, so it is common to see historians or researchers in those sites. It is the same for tourists. They can explore those sites, take pictures, and learn the history. Therefore, it is highly recommended to carry a camera.
Another important thing to know is that there are other names like Nala Gareng, Sadewa, Nakula, Antareja, and Petruk Temple. They are located in the same area as Setyaki, but their condition is terrible. In fact, they are unidentifiable! This is why tourists can only recognize a single temple in that location. It is because the others have turned into small stones, scattered all over the ground. Their names remain known by the locals, though.
Nearby Attractions
Gatotkaca Temple
Kailasa Museum
Sikidang Crater
How to Get There
As mentioned before, Setyaki Temple belongs to Gatotkaca complex and it is located in Dieng Kulon Village, Batur. From Wonosobo City, tourists can simply take a bus and head to the site. The entrance is located in Arjuna Temple complex, actually. From there, visitors only need to walk a route of 200 meters. As an alternative, tourists can use a route that passes through local potato plantation.
Where to Stay

Gunung Mas Hotel
Arjuna 2 Hotel
Budjono Hotel
Puspa Indah Homestay

Latest News
One of the many Dutch heritage forts, Van Der Wijck Fort is unique because the entire building is made of red brick. You've seen? This fort with an octagonal plan looks more charming with its red color, compared to Dutch forts which are generally colorless or white. It looks like the fort from the front and inside uses red bricks, but still with the characteristics of a Dutch fort in Indonesia which has a large building structure, such as windows, doors and rooms. With an area of 3606,625 square meters,…
---
Magelang has a number of temples as the favorite tourist destinations. Besides Borobudur, you can visit several other places, such as tourist villages. There are several tourist villages around Borobudur Temple with a unique and interesting atmosphere. In addition to saving nature, you can also get to know the culture behind it. Temanggung VillageTemanggung Village was viral because it was called Nepal van Java. The view of the village at the foot of Mount Sumbing is really epic. Tanjungsari VillageIf you are interested in the process of making honey, you…
---
Punuk Sapi BeachPunuk Sapi Beach is also popularly known as Pantai Lemah Abang which means "red land beach". It is named so because this beach is indeed filled with mounds to hills with red soil that at first glance looks like a cow's hump (punuk sapi is cow's hump in English). This beach has black sand, but it is also beautiful like the white sand beaches. There are hammocks and swings that you can use to relax, as well as take pictures from a height. This beach is located in…
---
Arjuna Temple complex is the most photographed and visited of the surviving temples on the Dieng Plateau. Situated just a few hundred meter from the homestays in Dieng village, they are an obvious first stop on a tour of the sights in the area. Though they are far from the most imposing of Javanese temples, they are the earliest surviving Hindu temples in Central Java, so they are of great importance historically. Built a century or two before the great temples around Yogyakarta and Magelang, they mark the original phase…
---