Bima Temple in Dieng Kulon Village, Batur Sub-District
---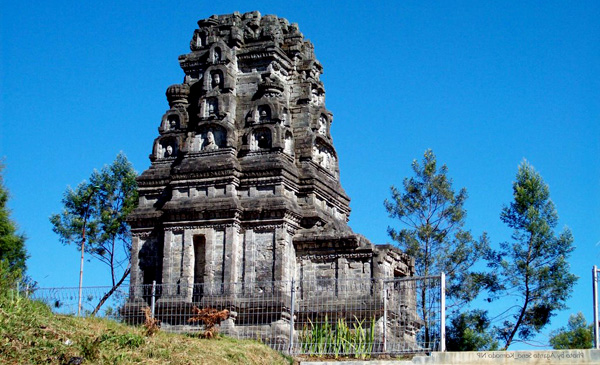 Regarded as a suitable vacation destination for nature lovers, Dieng Plateau gets more popular over time. Apart from stunning nature attractions like mountains, lakes, and craters, it offers majestic Hindu temples, which are scattered in different locations. Here is an example. The name is Bima Temple and it resides near to Sikidang Crater. The locals say it has been there since the 7th-8th century! The structure was built in order to worship God Shiva back then. Today, it has become a recommended tourist spot, for those visiting Dieng Kulon Village.
The Nuance
As compared to other temples in Dieng Plateau, Bima has a distinct shape and size. It has the height of 8 meters and the base has the shape of a rectangle. At a glance, the foundation looks like an octagonal shape. When it comes to the roof, it has a shape of an inverted bowl. The roof also features 5 levels, which are getting smaller to its top. Due to its tall and gorgeous shape, most of the visitors would take some pictures in front of it. That means photography is quite popular there.
Exploring Bima Temple
Bima Temple also has unique ornaments called Relung Kudu and Pelipit Padma, installed in its level. Those are ancient statues or "arcas". What about the interior? It is hollow, as no more arcas remain inside the temple. In each of its corner, there are some holes, which were used to compile stones when building the temple back then. In a nutshell, the architecture represents an ancient pyramid and it features a wall fence surrounding the structure. Some locals even say the temple often becomes a site to do a special event called Pradaksina (Tawur Agung).
The first thing to do when arriving at Bima Temple is sightseeing. Featuring beautiful ornaments and a majestic shape, the structure is worth and exploration and photography. Another best thing is that the location is surrounded by beautiful flowers, especially Hortensia. No other temples have such kind of uniqueness, in fact. Unfortunately, visitors aren't allowed to pick those beautiful blossoms. The only thing they can do is to take pictures of them or smell their fragrance. Once they enjoy sightseeing, the next thing to do is to learn the history of the structure.
According to the locals, there were about 24 arcas or statues back then. It is a bad thing that the temple only has 13 arcas left right now. The reason is none other than looting! Some bad people raid the temple and stole many valuable arcas. Knowing the fact, the local government decided to keep the rest of those items in a safer place. That means there is nothing to see inside Bima Temple presently.
Nearby Attractions
Sikidang Crater
Balekambang Lake
Setyaki Temple
Kailasa Museum
Pangonan Hill
Gatotkaca Temple
How to Get There
Bima Temple belongs to Dieng Kulon Village, Batur Sub-district. From Wonosobo City, the trip may take about 1 hour and 30 minutes. The distance is 25.9 km, after all. Here are other things to know. The best route to use is Dieng Raya Street and the closest tourist spot is Sikidang Crater.
Where to Stay
Puspa Indah Homestay
Gunung Mas Hotel 
Budjono Hotel
Arjuna 2 Hotel


Latest News
One of the many Dutch heritage forts, Van Der Wijck Fort is unique because the entire building is made of red brick. You've seen? This fort with an octagonal plan looks more charming with its red color, compared to Dutch forts which are generally colorless or white. It looks like the fort from the front and inside uses red bricks, but still with the characteristics of a Dutch fort in Indonesia which has a large building structure, such as windows, doors and rooms. With an area of 3606,625 square meters,…
---
Magelang has a number of temples as the favorite tourist destinations. Besides Borobudur, you can visit several other places, such as tourist villages. There are several tourist villages around Borobudur Temple with a unique and interesting atmosphere. In addition to saving nature, you can also get to know the culture behind it. Temanggung VillageTemanggung Village was viral because it was called Nepal van Java. The view of the village at the foot of Mount Sumbing is really epic. Tanjungsari VillageIf you are interested in the process of making honey, you…
---
Punuk Sapi BeachPunuk Sapi Beach is also popularly known as Pantai Lemah Abang which means "red land beach". It is named so because this beach is indeed filled with mounds to hills with red soil that at first glance looks like a cow's hump (punuk sapi is cow's hump in English). This beach has black sand, but it is also beautiful like the white sand beaches. There are hammocks and swings that you can use to relax, as well as take pictures from a height. This beach is located in…
---
Arjuna Temple complex is the most photographed and visited of the surviving temples on the Dieng Plateau. Situated just a few hundred meter from the homestays in Dieng village, they are an obvious first stop on a tour of the sights in the area. Though they are far from the most imposing of Javanese temples, they are the earliest surviving Hindu temples in Central Java, so they are of great importance historically. Built a century or two before the great temples around Yogyakarta and Magelang, they mark the original phase…
---