Ratapan Angin Site in Dieng Wetan Village, Wonosobo
---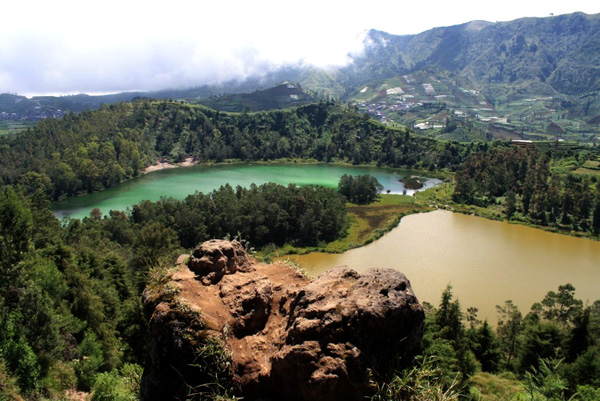 The majority of tourists refer to Tieng Viewing Post when it comes to sightseeing in Dieng Plateau. The fact is that other places are available to enjoy the beauty of mountains and other nature attractions. One of them is called Ratapan Angin Site, which belongs to Kejajar Sub-district. What is it, exactly? Ratapan Angin consists of two big stones, located near to each other. These stones reside in a hilly area near to Dieng Plateau Theater and Merah Putih Bridge. Most of the visitors are those who love to enjoy nature view and relaxation. It also becomes a good spot to do photography!
The Nuance
Ratapan means "a wail" and Angin means "the wind". In a nutshell, the name derives from the breezy wind that sounds like a moan or also a murmur No wonder, it feels a bit chilly up there. Before reaching those stones, tourists must have prepared some items especially a jacket. Wearing comfortable shoes is also recommended, as the landscape is quite challenging. Arriving at the top of the stones, flawless views of nature are seen majestically. The best scenes are indeed Pangilon and Warna Lake, showing their contrast color.
Exploring Ratapan Angin
Lots of people choose Ratapan Angin as the best spot to witness views of Warna and Pangilon Lake. It is no doubt. The scenes even appear better when the sun rises. In the horizon, the views of green hills would astonish everyone. Somehow, they are quite comforting. For some people, sightseeing is considered insufficient. This explains why they carry a camera and take some great pictures of those nature views. Even some locals often choose the site as their pre-wedding photo session. For others, though, Ratapan Angin becomes their place for trekking.
Before trekking, tourists need to pass through the guard post. It even requires a fee to enter the site. Have no worries. It is worth the money. Along the way to reach the stones, trekkers may encounter some challenging tracks. In this case, wearing comfortable shoes and carrying bottled water would be helpful. A trip from the guard post to the site takes about 15 minutes and the distance is 100 meters. Once they arrive at the spot, they can either take a rest or directly enjoy the views and take some pictures of them using a camera.
At the end of trekking, it is time to visit other tourist spots, which are also interesting. The most famous one is Dieng Plateau Theater, where tourists can watch a valuable documentary film. Next, they must visit a new tourist spot called Merah Putih Bridge. The site offers a challenging outdoor activity to tourists, which is to pass through a high bridge.
Nearby Attractions
Merah Putih Bridge
Tieng Viewing Post
Warna Lake
Sikendil Hill
Pangilon Lake
Arjuna Temple Complex
Dieng Plateau Theater
How to Get There
It is easy to reach Ratapan Angin Site. What people need to do is to go to Dieng Wetan Village, which is located in Kejajar Sub-district. From Wonosobo City, travelers can take either a bus or private car. It takes about 1 hour to reach that location. Next, they can park the vehicle near to Dieng Plateau Theater and head to Ratapan Angin right away.
Where to Stay
Gunung Mas Hotel
Budjono Hotel
Arjuna 2 Hotel
Puspa Indah Hotel