Pengantin Cave in Dieng Plateau, Wonosobo District
---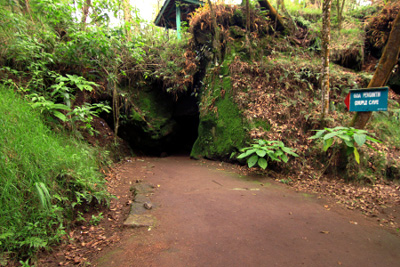 Several sacred caves lie near to Warna and Pangilon Lake in Dieng Wetan Village, including Pengantin Cave. Like other local caves in Dieng Plateau, it becomes a popular location to do a pilgrimage tour and meditating. Not to mention the locals often perform a ritual in that area regularly. There is even a myth regarding the positive aura of the cave that can help people to find a true love. No wonder, the name is Pengantin, which means "the bride". For tourists, the cave simply becomes a spot to do an exploration and photography because it is surrounded by lush nature and beautiful atmosphere.
The Nuance
In terms of size, Pengantin Cave is not quite big, having the depth of roughly 10 meters. Even the mouth of the cave looks like a mere crack in the rock wall. In front of it, there is the fence that keeps people to be aware of the sacredness of the cave. As if, it tells visitors not to act carelessly when exploring the area. Also, there is an information board telling people about the sanctity of the cave. It also tells something about local rituals that happen during a special event.
Exploring Pengantin Cave
The fact is Pengantin Cave belongs to Warna Lake Tourism Complex, so it becomes a significant spot for tourists to visit. Despite the fact, not many tourists are aware of the presence of the cave as they only often hear about Semar and Sumur Cave, which are also located in the same area. All of them share similar characteristics and charms, after all. They are known for their supernatural aura and an interesting local myth. Still, there is an exception for Pengantin. The locals come to the site with a specific purpose, which is to pray for a mate.
According to the locals, those who pray solemnly in Pengantin Cave would get their wish granted – getting a true love or real mate. Apart from such myth, the cave offers other attractions as well. For example, it is suitable to do caving or exploration. The thing is the cave doesn't come with facilities like lighting so visitors must have prepared a flashlight beforehand. It is a prime requirement, in fact. The reason is the cave has an intricate course and slippery landscape.
As mentioned before, the cave is protected by the fence so visitors won't be able to enter it without permission. There is a keeper in that tourism complex that visitors can ask permission from. Getting an admission from him is a must because he is the one who has the key to enter the site. Later, tourists can even explore other caves located near to it.
Nearby Attractions
Sikunir Mountain
Prau Mountain
Jojogan Village
How to Get There
Pengantin Cave is located in Telaga Warna Tourism Complex. To be exact, it belongs to Dieng Wetan Village, Kejajar. From Wonosobo City, the trip may take about 30 minutes – 1 hour, depending on the traffic. The cave is also located near to other sacred caves like Jaran, Semar, and Sumur, actually.
Where to Stay
Kledus Pass Hotel
Arjuna 1 Hotel
Sentro Hotel
Surya Yudha Hotel