Dieng Temple Complex in Batur Sub-District, Central Java
---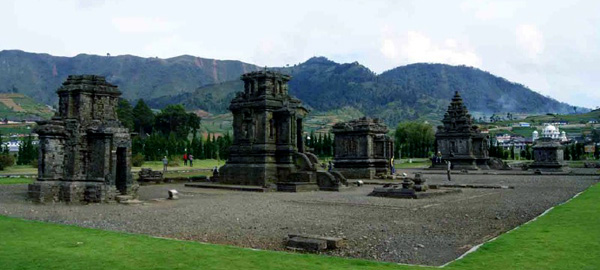 Dieng Plateau is recognized for its highland and beautiful scenery. It is located near to Wonosobo District and offers lots of nature attractions such as lakes, savannas, hills, etc. Moreover, it has a temple complex consisting of several unique temples and all of them are open for public. These include Arjuna, Srikandi, Sembadra, Puntadewa, Semar, Gatutkaca, Bima, and Dwarawati Temple. All of them look majestic and beautiful! The fact is their name derives from Baratayudha Epic and it represents Hindu culture. Due to its popularity, the complex has been visited by lots of tourists as the time goes by. Above all, there is an annual traditional ceremony called DCF or Dieng Culture Festival.
The Nuance
Dieng Temple Complex is situated in a wide land, which has a measurement of 1 hectare. The locals say those temples were made in different eras. For example, there is Arjuna Temple, which is considered the oldest, featuring Indian architecture style. There is also the youngest one called Sembadra Temple, which has been influenced by local culture and design. Still, all of them have similar features like penil, makara, jalatmara, istadewata, and antefik. In terms of size, most of the temples have a height of 4 meters.
Exploring Dieng Temple Complex
Despite the small size, those temples look majestic. People often come to the complex to do photography and sightseeing, in fact. They are amazed by the fact that those temples reside on Dieng Plateau, which is considered unique. All of the structures were made to worship God Shiva – the Hinduist's Deity. Usually, tourists pose in front of the complex and take some pictures there. Some of them even take advantage of those temples as a background of their pre-wedding photos.
Apart from photography, Dieng Temple Complex becomes a suitable vacation destination for those who love hiking. It is because tourists should pass through a lush trekking route in order to reach the site. Not to mention they might see lots of pine trees along the way to the complex. Just because it features beautiful landscape, doesn't mean it offers a perfect route to tourists. The thing is the path is slippery most of the time. It is caused by damp environment and high rainfall. Therefore, visitors must consider wearing better footwear and carrying an umbrella before hiking.
Another important tip is related to a tour guide service, which is considered important. Hiring a local guide helps tourists to explore the complex and reach the location in an efficient manner, after all. The service is affordable either. It is better than wandering alone and have a possibility of getting lost in Dieng, so the service is worth the money.
Nearby Attractions
Sikidang Crater
Ratapan Angin
Warna Lake
Pengilon Lake
Dieng Plateau Theater
How to Get There
Dieng Temple Complex resides in Dieng Kulon Village and it belongs to Batur Sub-district. From Banjarnegara City, tourists can take a minibus or taxi to reach the destination. The best route is Karangkobar Street and the distance is about 57 km. That means the trip may take roughly 2 hours.
Where to Stay
Arjuna 2 Homestay
King's Dieng Inn
Budjono Hotel
Puspa Indah Homestay
Gunung Mas Hotel

Latest News
One of the many Dutch heritage forts, Van Der Wijck Fort is unique because the entire building is made of red brick. You've seen? This fort with an octagonal plan looks more charming with its red color, compared to Dutch forts which are generally colorless or white. It looks like the fort from the front and inside uses red bricks, but still with the characteristics of a Dutch fort in Indonesia which has a large building structure, such as windows, doors and rooms. With an area of 3606,625 square meters,…
---
Magelang has a number of temples as the favorite tourist destinations. Besides Borobudur, you can visit several other places, such as tourist villages. There are several tourist villages around Borobudur Temple with a unique and interesting atmosphere. In addition to saving nature, you can also get to know the culture behind it. Temanggung VillageTemanggung Village was viral because it was called Nepal van Java. The view of the village at the foot of Mount Sumbing is really epic. Tanjungsari VillageIf you are interested in the process of making honey, you…
---
Punuk Sapi BeachPunuk Sapi Beach is also popularly known as Pantai Lemah Abang which means "red land beach". It is named so because this beach is indeed filled with mounds to hills with red soil that at first glance looks like a cow's hump (punuk sapi is cow's hump in English). This beach has black sand, but it is also beautiful like the white sand beaches. There are hammocks and swings that you can use to relax, as well as take pictures from a height. This beach is located in…
---
Arjuna Temple complex is the most photographed and visited of the surviving temples on the Dieng Plateau. Situated just a few hundred meter from the homestays in Dieng village, they are an obvious first stop on a tour of the sights in the area. Though they are far from the most imposing of Javanese temples, they are the earliest surviving Hindu temples in Central Java, so they are of great importance historically. Built a century or two before the great temples around Yogyakarta and Magelang, they mark the original phase…
---