Semar Temple in Dieng Kulon Village, Banjarnegara District
---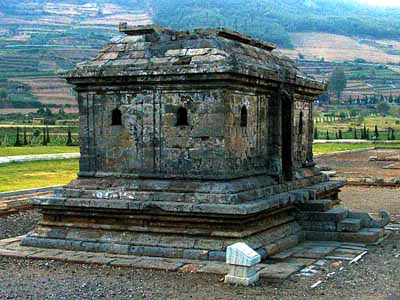 It is without a doubt Arjuna Temple complex is the most well-maintained and popular site to see a group of temples in Dieng Plateau. Apart from Arjuna, the prime temple, there are other structures in that area. Here is for the example. The name is Semar – a small but stunning historical Hindu temple. Some people say it is similar to India's temple called Parasurameswara. It is because they share a similar shape, which represents a pendapa (Javanese's meeting room). It is also said Semar Temple was used by Brahmana caste or priests for performing numerous religious ceremonies.
The Nuance
The size of Semar Temple is 3.5 m x 7 m. It is considered shorter than other temples and its roof (batur) feature a pyramid-like shape (limasan). No ornaments are seen on the top of that structure. Semar has the shape of a rectangle and its appearance is similar to Perwara or a sidekick temple. The entrance is located in the east and there is no display chamber at all. Only several carvings are seen near to such entrance, which is called Kalamakara (the dragon's head). In each side of the east walls, there is a small window as well. Inside, there is nothing to be seen.
Exploring Semar Temple
Semar is the name of a famous character in shadow puppet art. Just like other temples in Dieng, it was used to worship God Shiva and was built around 8th – the 9th century. The best thing is that such temple has a different shape than others. No wonder, tourists won't miss the chance to take pictures of it when visiting Dieng Plateau. The fact is that it is located in front of Arjuna Temple, which is the prime architecture in that complex. Some tourists even call it Arjuna's companion. Their height is quite different, though.
Despite the age, Semar Temple remains in a good condition and it looks well-maintained. There is an explanation to its durability, which is the usage of andesite stones. These materials came from Pakuwaja Mountain and provide an excellent endurance to all temples in Dieng. The only thing that may ruin the structures is either a natural disaster or thievery. Otherwise, it is likely all of them can last for centuries! Semar Temple is not an exception. The condition is as good as new, without any damaged parts.
The other name of Semar Temple is Perwara, which means a companion or sidekick. Even though visitors do not have an intention in visiting that structure, they are likely to encounter it. The reason is it resides right in front of Arjuna Temple. No wonder, everyone can see it clearly there. At that location, tourists can even see the beautiful landscape of hills and trees on the horizon.
Nearby Attractions
Arjuna Temple
Sembadra Temple
Balekambang Lake
Sikidang Crater
Gasiran Aswotomo
Kailasa Museum
Gatotkaca Temple
Prau Mountain
How to Get There
The prime destination is Dieng Kulon Village. Travelers can either come from Banjarnegara City or Wonosobo City. The second option is the most common one, though. The trip may take about 2 hours and the fastest route is Dieng Raya Street. Once they reach the village, the next thing to do is to head to Arjuna Temple complex, where Semar Temple resides.
Where to Stay
Dieng's King Inn
Gunung Mas Hotel
Puspa Indah Homestay