Semar Cave in Dieng Plateau, Wonosobo District
---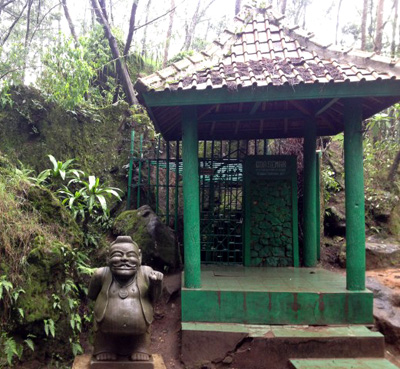 A sacred cave is located near to Warna Lake in Dieng Plateau – Semar Cave. The name derives from a fictional character of Wayang mythology, which has a fat body. Apart from being a sacred site where the locals meditate, the cave also attracts tourists who visit Dieng. According to the history, in fact, the cave was visited by Javanese Kings to perform meditation. Even the second president of Indonesia came there in 1974 and got inspiration regarding his reign. Another important fact is that the cave also becomes an option to do a traditional ritual called "Ruwatan Rambut Gimbal (dreadlocks sanctification).
The Nuance
In terms of size, Semar cave is considered small, having the width of 4 square meters. Inside, there is a special place to conduct meditation, a statue of Semar, and offerings. The thing is visitors cannot carelessly enter the cave because it is considered sacred. Only those who have got permission are allowed to enter the cave. There is even the iron fence, preventing visitors to reach in it. Thus, it seems impossible to enter the cave without any approval from the keepers or management.
Exploring Semar Cave
Once tourists arrive at the location where Semar Cave resides, they can feel its mystical aura for sure. No wonder, most of the visitors come to the site to do pilgrimage tour and some rituals. The locals even come to the cave for meditating and looking for inspiration. For tourists or outsiders, it is better to obtain the permission first before going to the cave. This way, they are allowed to explore and meditate inside that sacred cave. Some people even say the cave helps visitors to bring luck and eradicate misfortune. Not all tourists believe in such myth, though.
Apart from meditating, Semar Cave is also suitable for photography. The most interesting object is the statue of Semar, which is located at the main entrance of the size. Tourists can take selfies in front of the statue as well. Once they enjoy a good time on the site, they can visit other interesting vacation spots that reside near to that area. For instance, there is Warna Lake and Sumur Cave. There is no need to spend much time to reach those locations, in fact.
As for the tip, all visitors must take care of the environment well when exploring Semar Cave. It is a sacred area, so everyone must respect it well. Even visitors are not allowed to talk dirty and loud as it is considered a mockery to the site. Not to mention they should not litter! Eating snacks and drink water are allowed, but they must take care of the trash carefully. That's common sense, after all.
Nearby Attractions
Warna Lake
Sumur Cave
Pengilon Lake
Batu Ratapan Angin
Wana Wisata Petak 9 Sidengkeng Hill
Dieng Plateau Theater
Prau Mountain
How to Get There
To be exact, Semar Cave belongs to Dieng Wetan Village and it resides near to Warna Lake and Sumur Cave. It is recommended to come with a tour guide as he knows the most efficient way to reach the site.
Where to Stay
Arjuna 1 Hotel
Kledus Pass Hotel
Sentro Hotel
Surya Yudha Hotel