Balekambang Lake in Dieng Kulon Village, Banjarnegara District
---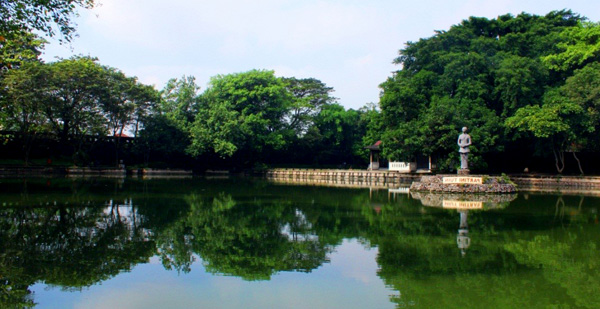 A vacation retreat in Dieng Plateau should be everyone's choice for the next holiday. Featuring many options of nature attractions, Dieng never ceases to amaze tourists. Here is a reference. The name is Balekambang Lake and it belongs to Batur Sub-district. To be exact, the lake is situated in Dieng Kulon Village, and it resides near to Arjuna Temple. Even though it is less popular than other lakes in Dieng, Balekambang is a place that tourists should never overlook. Thanks to its strategic location. People keep coming to the site after they explore nearby temples.
The Nuance
The size of the lake is about 10 hectares and most parts of it are undergoing siltation. In fact, more grasses cover some parts of the lake gradually. Due to such problems, people consider it a puddle instead of a lake. The reason is the size is not as great as its siblings. Despite the fact, it provides lots of benefits to the environment and the locals, especially in tourism industry. Even it became a significant water reservoir and prevented excessive water from getting in Arjuna Temple during heavy rain.
Exploring Balekambang Lake
Located near to famous Arjuna Temple and local farms, Balekambang Lake becomes a nice spot to enjoy an adventure and small trekking. Visitors can even visit different sightseeing spots like Sikidang Crater and Ratapan Angin in order to enjoy better views of the lake. The most recommended spot is Dieng Plateau Theater, though. Of course, tourists must spend more time and effort in reaching those spots. The fact is their effort won't be a waste, as the views are rewarding. It is, somehow, becomes a nice object for photography.
The next fun activity to do is fishing! Both the locals and tourists are allowed to fish in the lake, as long as they have prepared the equipment beforehand. Some big freshwater fishes are seen in the lake, and they keep luring those who love fishing. For tourists, this kind of activity can be their opportunity to get closer to the villagers too. They can even share fishing experience and stories to each other. For lucky ones, some locals may invite them to their house, grill the fishes, and eat together!
Apart from its unique charm, Balekambang Lake is considered historical. It got its name from the legendary small island that floats on an ancient lake. Due to its soft texture, it is called "Bale" (bed). Also, it floats easily on water and people gave another name, which is Kambang (float). Knowing the history and sacredness of the lake, many villagers still do a traditional ritual like meditation during Islamic New Year (Suro). They sit by the lake and unite with nature, wishing both wellness and luck in life.
Nearby Attractions
Arjuna Temple
Ratapan Angin
Sikidang Crater
How to Get There
From Wonosobo City, travelers can take either a car or minibus to Batur Sub-District. Next, they need to head to Dieng Kulon Village and reach Arjuna Temple. This trip takes about 1 hour and the distance is 25.9 km. As for the best route, it is definitely Dieng Raya Street. From the temple, they can simply walk to the lake, passing through a small hill and local farms.
Where to Stay
Gunung Mas Hotel
Budjono Hotel
Puspa Indah Hotel
Arjuna 2 Hotel

Latest News
One of the many Dutch heritage forts, Van Der Wijck Fort is unique because the entire building is made of red brick. You've seen? This fort with an octagonal plan looks more charming with its red color, compared to Dutch forts which are generally colorless or white. It looks like the fort from the front and inside uses red bricks, but still with the characteristics of a Dutch fort in Indonesia which has a large building structure, such as windows, doors and rooms. With an area of 3606,625 square meters,…
---
Magelang has a number of temples as the favorite tourist destinations. Besides Borobudur, you can visit several other places, such as tourist villages. There are several tourist villages around Borobudur Temple with a unique and interesting atmosphere. In addition to saving nature, you can also get to know the culture behind it. Temanggung VillageTemanggung Village was viral because it was called Nepal van Java. The view of the village at the foot of Mount Sumbing is really epic. Tanjungsari VillageIf you are interested in the process of making honey, you…
---
Punuk Sapi BeachPunuk Sapi Beach is also popularly known as Pantai Lemah Abang which means "red land beach". It is named so because this beach is indeed filled with mounds to hills with red soil that at first glance looks like a cow's hump (punuk sapi is cow's hump in English). This beach has black sand, but it is also beautiful like the white sand beaches. There are hammocks and swings that you can use to relax, as well as take pictures from a height. This beach is located in…
---
Arjuna Temple complex is the most photographed and visited of the surviving temples on the Dieng Plateau. Situated just a few hundred meter from the homestays in Dieng village, they are an obvious first stop on a tour of the sights in the area. Though they are far from the most imposing of Javanese temples, they are the earliest surviving Hindu temples in Central Java, so they are of great importance historically. Built a century or two before the great temples around Yogyakarta and Magelang, they mark the original phase…
---