Merah Putih Bridge in Dieng Kulon Village, Banjarnegara
---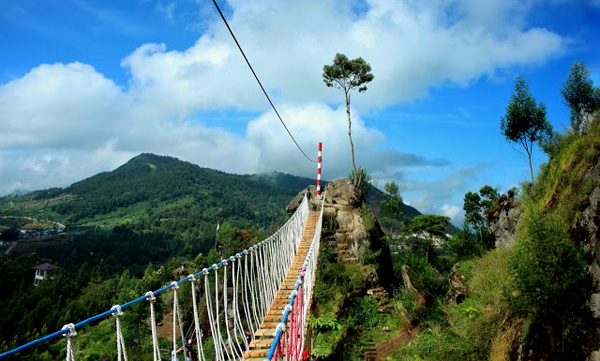 Fresh air and flawless nature scenery are some of the charms of Dieng Plateau. The question is where people should conduct sightseeing, photography, and trekking. One location is suitable for those fun activities, which is none other than Merah Putih Bridge. It resides in the east part of Ratapan Angin Site and it belongs to Dieng Kulon Village. The bridge connects 2 hills and becomes a perfect spot to enjoy nature views! For some people, crossing that bridge seems scary as it is both high and it is only made of woods and ropes. Despite the fact, everyone feels challenged in crossing it.
The Nuance
As the name suggest, Merah means "red" and Putih means "white". The name represents the colors of the bridge, which are dominated by red and white. As mentioned earlier, it connects two hills, which are located on Ratapan Angin Site. The height is about 20 meters and it has the length of 10 meters. Fortunately, the management would equip tourists with a safety rope before crossing that bridge. That means everyone can pass the bridge regardless of their age. Not to mention it gives a sensation of walking on the air! Even the views are flawless.
Exploring Merah Putih Bridge
The best views which can be seen from that bridge are definitely the twin lakes called Pangilon and Warna. It is also possible to take pictures from above, so carrying a camera is a must. Apart from the lakes, other breathtaking views are available like small hills that surround the bridge and Ratapan Angin. One thing, the wind can be quite strong sometimes. This makes it swaying too much! Instead of getting terrified, tourists are likely to enjoy such sensation. They consider it challenging and fun!
The fact is that there are some rescue staffs working on the site. Their presence alone would give a reassurance to everyone. They also help visitors to attach the safety rope prior to passing the bridge. Not to mention they give instructions regarding how to walk on that bridge in a safe manner. Thanks to such professional service. Merah Putih Bridge is suitable for everyone, even for kids. The only precaution is that people must not overload the bridge, so they must take turns in passing it. It is true the bridge is safe, but no one knows what will happen when it gets overloaded.
Apart from being a tour spot, Merah Putih Bridge represents the richness of Indonesia. No wonder, the nation's flag color is the combination of red and white. Today, it also becomes a prime vacation spot for those visiting Ratapan Angin Site. Even Arjuna Temple is seen clearly from the location, including Dieng Plateau Theater!
Nearby Attractions
Ratapan Angin
Warna Lake
Pengilon Lake
Arjuna Temple
How to Get There
The fact is the bridge is located on the same site as Ratapan Angin. From Wonosobo, a small trip to Dieng Kulon Village may take only 1 hour, as long as the traffic is low. Once travelers get to Arjuna Temple complex, they can simply walk to the site. The distance is about 500 meters.
Where to Stay
Puspa Indah Homestay
Gunung Mas Hotel
Budjono Hotel
Arjuna 2 Hotel