Ngabdullah Selomanik Tomb in Dieng Plateau, Wonosobo
---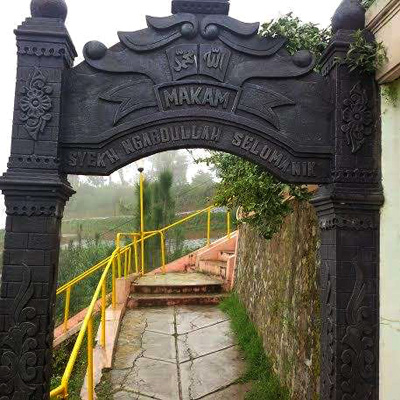 Pilgrimage tour becomes an option for those who visit a famous tourist site like Dieng Plateau. The reason is none other than the presence of several sacred sites, which scatter in different areas. For example, there is Ngabdullah Selomanik Tomb in Kalilembu Village. It is the tomb of a syech, the son of King Brawijaya 5th of Majapahit Kingdom. That man was also recognized for his role in introducing Islam to Dieng Plateau and nearby area. Since his tomb was founded by Gus Dur, a former president of Indonesia, it keeps attracting more visitors over time.
The Nuance
In order to reach the site, tourists must conduct a short trekking from Kalilembu. The fact is visitors must pass through the local settlement and climb the stairs. Once they reach the gate, they can see a majestic structure where a big tomb resides. It is covered with a valance, as well. Before entering the site, it is recommended to take Wudhu (Islamic cleansing ritual using water). Visitors also need to enter the structure based on their gender, actually. There is even a small mosque or mushalla there, on which visitors can pray.
Exploring Ngabdullah Selomanik Tomb
The first reason to visit the tomb is to learn a bit history of that syech. It is said he is the line of Ample Sunan. Not to mention his tomb was Gus Dur's favorite place for pilgrimage. This explains why the site is quite popular among the locals. The fact is some outsiders are often seen there as well, especially in January during the "haul" (birthday) of Ngabdullah Selomanik. People give a prayer and look for a blessing from the God through that sacred site. Sometimes, politicians also come to the tomb because they believe it may give good luck in the future election.
Other than January, the tomb seems quieter and more peaceful. Only some local kids are seen in the stairs near to the site. There is no keeper so visitors are allowed to enter and give a prayer solemnly. The thing is they must give respect to the site by taking wudhu before entering. Also, littering is a big no. All tourists must take care of the environment and must not eat foods or drink near to the tomb. Also, no one is allowed to talk loudly in that area.
Before going back to Kalilembu Village, tourists must take advantage of the nature to relax and rest for a while. It is because the tomb resides in a highland, featuring breathtaking views of Menjer and Cebong Lake. From there, they can even access to nearby villages such as Sembungan and Mlandi.
Nearby Attractions
Sembungan Village
Mlandi Village
Cebong Lake
Sikarim Waterfall
Menjer Lake
How to Get There
The distance between Wonosobo City and Selomanik Tomb is roughly 26 km. That means it costs about 1 hour to get to the location. Once they reach Siton Gate, they can access to Kalilembu Village, where the tomb is located. Have no worries. The locals are ready to help by giving direction.
Where to Stay
Dieng Semar Homestay
Budjono Hotel
Puspa Indah Homestay
Arjuna 2 Hotel

Latest News
One of the many Dutch heritage forts, Van Der Wijck Fort is unique because the entire building is made of red brick. You've seen? This fort with an octagonal plan looks more charming with its red color, compared to Dutch forts which are generally colorless or white. It looks like the fort from the front and inside uses red bricks, but still with the characteristics of a Dutch fort in Indonesia which has a large building structure, such as windows, doors and rooms. With an area of 3606,625 square meters,…
---
Magelang has a number of temples as the favorite tourist destinations. Besides Borobudur, you can visit several other places, such as tourist villages. There are several tourist villages around Borobudur Temple with a unique and interesting atmosphere. In addition to saving nature, you can also get to know the culture behind it. Temanggung VillageTemanggung Village was viral because it was called Nepal van Java. The view of the village at the foot of Mount Sumbing is really epic. Tanjungsari VillageIf you are interested in the process of making honey, you…
---
Punuk Sapi BeachPunuk Sapi Beach is also popularly known as Pantai Lemah Abang which means "red land beach". It is named so because this beach is indeed filled with mounds to hills with red soil that at first glance looks like a cow's hump (punuk sapi is cow's hump in English). This beach has black sand, but it is also beautiful like the white sand beaches. There are hammocks and swings that you can use to relax, as well as take pictures from a height. This beach is located in…
---
Arjuna Temple complex is the most photographed and visited of the surviving temples on the Dieng Plateau. Situated just a few hundred meter from the homestays in Dieng village, they are an obvious first stop on a tour of the sights in the area. Though they are far from the most imposing of Javanese temples, they are the earliest surviving Hindu temples in Central Java, so they are of great importance historically. Built a century or two before the great temples around Yogyakarta and Magelang, they mark the original phase…
---