Candradimuka Crater in Pekasiran Village, Banjarnegara District
---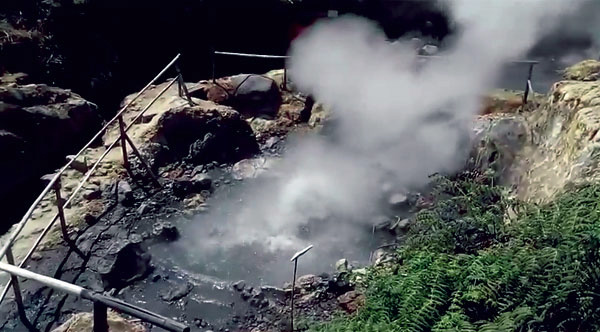 Dieng Plateau is known for its nature attractions, including lakes and mountains. The fact is that it provides other stunning tourist spots like craters! Many travelers even have heard about Sikidang and Sileri Crater. The thing is they must never miss another fabulous crater called Candradimuka. The name means "a moonlight crater" and it becomes a recommended tourist spot for those coming to Dieng Plateau. The locals even relate it to a myth of Gatotkaca, a local fictional or legendary hero. Knowing the fact, not any single tourists would regret visiting the site.
The Nuance
Candradimuka Crater is located in a highland or valley. It without a doubt takes much time and efforts in reaching the site. The distance between the start point and the crater is 5 km, featuring a slope of 30-45 degrees. Not to mention the route features rocky landscape. Despite the conditions, it is easy to pass through it, as the land is quite stable. Near to the crater, there is a parking area, but no facilities. That means visitors won't find toilets, benches, or any structures. What they can see is a stunning crater with its majestic sulfur and smokes!
Exploring Candradimuka Crater
The crater resides at the bottom of the hill. Apart from thick smoke, the site also emits strong sulfur scent. Getting around at that site is quite troublesome, but there is a solution to reduce the discomfort. It is by wearing both mask and spectacles. Have no worries. The crater has no much smoke sometimes. A way down to the crater is even not difficult to do. At the location, visitors might see a majestic shape of the crater, which is longwise like a river. In terms of contour and shape, Candradimuka is similar to that of Gedong Songo Temple.
Candradimuka Crater is not only suitable for sightseeing, but it also satisfies photographers' passion. Not to mention the crater owns an interesting story. The locals or tour guides may tell tourists regarding such legend, after all. The rumor has it there was the son of Werkudoro, Gatutkaca, who took a bath in the crater. He was too powerful that the heat of the site couldn't able to penetrate his skin. The purpose was none other than to train his abilities and improved his power.
What's next? After exploring Candradimuka Crater and hear its legend, there is another interesting activity to do. It is none other than a nearby savanna, on which tourists can relax and enjoy sightseeing. Such small grassy landscape features flowers, hilly scenery, and comfortable atmosphere. Nothing can compare the comfort offered by the site. It even becomes a resting place for tourists, after spending good times in the crater.
Nearby Attractions

•   Dringo Lake
•   Sileri Crater
•   Sikidang Crater
•   Arjuna Temple
•   Bitingan Hotspring
How to Get There
For those coming from Wonosobo City, they can take either private or public transportation, and head to Pekasiran Village. The trip takes 1 hour or more, depending on the traffic. The distance between those locations is 32.4 km, actually.
Where to Stay
Larasati Hotel
Puspa Indah Homestay
Gunung Mas Hotel