Lengger Dance of Dieng Plateau, Central Java Province
---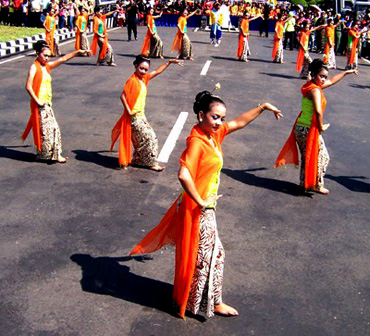 Becoming one of signature traditional dances of Central Java Province, Lengger Dance remains popular among both locals and foreigners. One of the best locations to witness the dance is in Dieng Plateau, especially during special events. Lengger is performed in pairs and it has become traditional entertainment for decades. No one can deny the beauty of such classic dance for sure. The name "Lengger" derives from Le, which means boys, and "Ger" which means festive. It was performed differently, though, back then. In the past, the dance was a little bit erotic and often caused havoc. Today, however, the dance has become more meaningful and beautiful.
About Lengger Dance
As mentioned before, the dance is performed in pairs. That means there are both female and male dancers. The women wear traditional fabrics like Jarik and Kemben. Not to mention they wear several accessories, especially a crown and a shawl. The fact is that they also put some makeup to look more beautiful during the performance. For male dancers, they wear simple attire with a vest. When it comes to accessories, they wear a mask and a headband. The dance also has an accompaniment, actually. These include traditional music instruments like gong, kendang, gambang, saron, and calung.
Enjoying Lengger Dance
Even though Lengger Dance has been performed in several regions in Central Java Province, Wonosobo and Dieng Plateau are considered the best place to enjoy it. No wonder, those who visit Dieng would try to witness the performance with their own eyes. There are several stages performed during dancing and all of them represent a significant meaning. Thanks to Kalijaga. He had turned Lengger into a better dance by involving a religious aspect in it. The reason is because the dance was considered lustful back then.
People who live in Dieng and nearby areas often conduct the dance during a special event called "Hajatan". For tourists, it is a bit troublesome to enjoy the dance as they must come at the right time. Have no worries. Local tour guides or tour agents would arrange it for clients. That means tourists can simply contact those people in order to take an opportunity to witness Lengger Dance in Dieng. The best location to enjoy the performance is in Giyanti Village, actually. It resides in Solomerto Sub-District and belongs to Wonosobo District.
As for the tips, tourists must never forget to carry a camera. Beautiful moves and expressions showed by the dancers are quite mesmerizing, after all. Somehow, it becomes a wonderful object for photography. Another tip is that tourists should come with a local tour guide as he may explain the meaning of the dance and its history. It is true it costs some money but it is worth the expense.
Nearby Attractions
Wonosobo Square
Sumbing Mountain
Sindoro Mountain
How to Get There
The most recommended location to enjoy Lengger Dance is in Giyanti Village. From Wonosobo City, travelers can simply head to Selomerto Sub-District, which takes about 20-30 minutes. The distance is 10 km and they can take Banjarnegara-Wonosobo Street.
Where to Stay
Pison Hotel
Sindoro Sumbing Hotel
Mulyo Aji Hotel
Sentro Hotel

Latest News
One of the many Dutch heritage forts, Van Der Wijck Fort is unique because the entire building is made of red brick. You've seen? This fort with an octagonal plan looks more charming with its red color, compared to Dutch forts which are generally colorless or white. It looks like the fort from the front and inside uses red bricks, but still with the characteristics of a Dutch fort in Indonesia which has a large building structure, such as windows, doors and rooms. With an area of 3606,625 square meters,…
---
Magelang has a number of temples as the favorite tourist destinations. Besides Borobudur, you can visit several other places, such as tourist villages. There are several tourist villages around Borobudur Temple with a unique and interesting atmosphere. In addition to saving nature, you can also get to know the culture behind it. Temanggung VillageTemanggung Village was viral because it was called Nepal van Java. The view of the village at the foot of Mount Sumbing is really epic. Tanjungsari VillageIf you are interested in the process of making honey, you…
---
Punuk Sapi BeachPunuk Sapi Beach is also popularly known as Pantai Lemah Abang which means "red land beach". It is named so because this beach is indeed filled with mounds to hills with red soil that at first glance looks like a cow's hump (punuk sapi is cow's hump in English). This beach has black sand, but it is also beautiful like the white sand beaches. There are hammocks and swings that you can use to relax, as well as take pictures from a height. This beach is located in…
---
Arjuna Temple complex is the most photographed and visited of the surviving temples on the Dieng Plateau. Situated just a few hundred meter from the homestays in Dieng village, they are an obvious first stop on a tour of the sights in the area. Though they are far from the most imposing of Javanese temples, they are the earliest surviving Hindu temples in Central Java, so they are of great importance historically. Built a century or two before the great temples around Yogyakarta and Magelang, they mark the original phase…
---