Bima Lukar Fountain in Dieng Plateau, Banjarnegara
---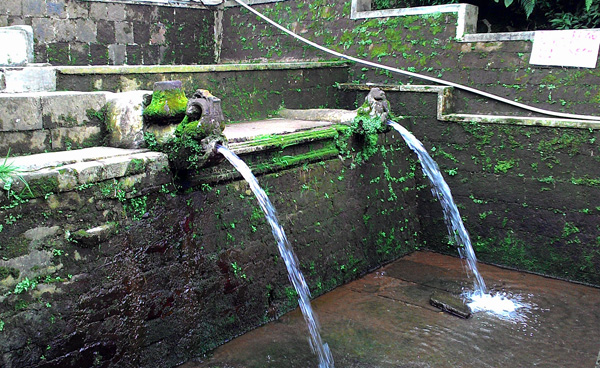 It has become common knowledge that Dieng Plateau is quite famous among tourists. The reason is none other than the presence of famous Hindu temples, stunning mountains, and other tourist attractions. Apart from that, there is a unique spot to visit called Bima Lukar Fountain. It resides near to Dieng gate and it belongs to Banjarnegara District. Being upstream of Serayu River and one of its sources of water, Bima Lukar attracts tourists regardless of where they come from. Not only it offers a serene nuance, but it also has an interesting legend!
The Nuance
This ancient fountain consists of 3 stairs. The uppermost is considered the most sacred as compared to others. In fact, it also becomes the place to put some offerings. Below, there is a small pool used to store water. Next, it is the lowermost, where two taps or sprays reside. The most popular part of Bima Lukar Fountain is definitely the taps. People come to that location to wash their face, and even take a bath! Legend has it the water is able to retain people's youth and beauty.
Exploring Bima Lukar Fountain
As mentioned before, there is a story related to the fountain. It is said Bima (one of Pandawa heroes) and Kurawa (the evils) had a competition in creating a river. At the time before the beginning of the race, Bima got a vision that he must do the job without any single cloth or naked. He was even told to use his vital part for creating water holes. Completing those tasks, he won the competition without hassle. Due to the legend, people named the fountain based on Bima's name and how he won the competition, which is without wearing any clothes. Lukar means "naked", after all.
Aside from its historical value, Bima Lukar Fountain becomes a sacred tourist spot in Dieng Plateau. In fact, the locals and tourists often come to the site to look for blessings. They even believe the water can nourish the skin and keep it young all the time. Here is the thing. Visitors can only use the water, which comes from the taps (in the lowermost part). It is true there is a small pond above it, but no one is allowed to use the water.
Bima Lukar Fountain has been part of ancient Hindu society and it has a significant role to Serayu River. The fact is some Hindu people keep coming to the site in order to perform a religious ceremony. This explains why the uppermost of the fountain becomes the place to put offerings during any religious ceremonies. With both its legend and mesmerizing nuance, it is without a doubt Bima Lukar becomes a recommended tourist spot for everyone.
Nearby Attractions
Serayu River
Prau Mountain
Pitu Waterfall
How to Get There
Bima Lukar Fountain is upstream of Serayu River. It is located in the slope of Prau Mountain. From Banjarnegara City, travelers can take any local transportation service through Raya Brengkok – Banjarnegara Street. The trip takes about 1 hour and 30 minutes and the distance is 35 km.
Where to Stay
Sokanandi Hotel
Garuda Hotel
Centra Hotel
Gading Rejo Hotel

Latest News
One of the many Dutch heritage forts, Van Der Wijck Fort is unique because the entire building is made of red brick. You've seen? This fort with an octagonal plan looks more charming with its red color, compared to Dutch forts which are generally colorless or white. It looks like the fort from the front and inside uses red bricks, but still with the characteristics of a Dutch fort in Indonesia which has a large building structure, such as windows, doors and rooms. With an area of 3606,625 square meters,…
---
Magelang has a number of temples as the favorite tourist destinations. Besides Borobudur, you can visit several other places, such as tourist villages. There are several tourist villages around Borobudur Temple with a unique and interesting atmosphere. In addition to saving nature, you can also get to know the culture behind it. Temanggung VillageTemanggung Village was viral because it was called Nepal van Java. The view of the village at the foot of Mount Sumbing is really epic. Tanjungsari VillageIf you are interested in the process of making honey, you…
---
Punuk Sapi BeachPunuk Sapi Beach is also popularly known as Pantai Lemah Abang which means "red land beach". It is named so because this beach is indeed filled with mounds to hills with red soil that at first glance looks like a cow's hump (punuk sapi is cow's hump in English). This beach has black sand, but it is also beautiful like the white sand beaches. There are hammocks and swings that you can use to relax, as well as take pictures from a height. This beach is located in…
---
Arjuna Temple complex is the most photographed and visited of the surviving temples on the Dieng Plateau. Situated just a few hundred meter from the homestays in Dieng village, they are an obvious first stop on a tour of the sights in the area. Though they are far from the most imposing of Javanese temples, they are the earliest surviving Hindu temples in Central Java, so they are of great importance historically. Built a century or two before the great temples around Yogyakarta and Magelang, they mark the original phase…
---