Dieng Plateau Theater of Kejajar Sub-District, Wonosobo
---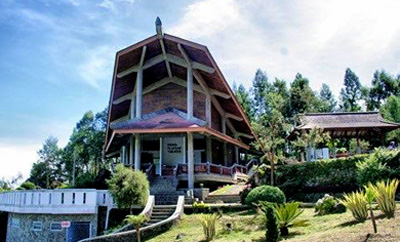 Dieng Plateau belongs to both Banjarnegara and Wonosobo District. Regardless of the location from where tourists come, lots of tourist spots are waiting for them. Here is a reference. The name is Dieng Plateau Theater in Kejajar Sub-District. It belongs to Wonosobo District, actually. Unlike other vacation destinations in Dieng, it is man-made. That means the local government constructed such theater as an extra lure there. It is the place to watch a documentary film regarding Dieng Plateau, including culture, history, potentials, and natural events. No wonder, it is a suitable place to learn more about that stunning plateau along with its mysteries.
The Nuance
Dieng Plateau Theater resides on 2100 meters above sea level and it is located on the slope of Sikendil Hill. It is also situated near to the T-junction entrance of Dieng Plateau, which is 150 meters from a famous lake called Warna. The fact is the theater offers an entrance to such lake and another famous tourist spot – Ratapan Angin. The building has a majestic design, featuring a beautiful garden and good facilities. It can even accommodate up to 100 visitors. Not to mention it is equipped with sophisticated audio and visual facilities.
Exploring Dieng Plateau Theater
Before entering the building and watching the documentary film, tourists can enjoy stunning views of nature in that area. Thanks to the location. Visitors are able to see majestic mountains out there, including Gajah Mungkur, Prau, Pangonan, Sipandu, Nagasari, and much more! Near to the parking area, visitors can relax while enjoying nature scenery in a small garden. It is even allowed to eat snacks or foods at that spot. At least, they can rest awhile after a long trip to the theater.
Now, it is time to enjoy the main attraction of the theater, which is a documentary film entitled "Bumi Kahyangan". The duration is about 30 minutes and it tells the story about Dieng Plateau's history, culture, geographical condition, and others. This is suitable for everyone, including tourists, students, and historians. No wonder, families with kids often come to the theater and enjoy such visual information. Inside the building, there are about 60 seats. Not to mention there is a big screen, having the size of 2 x 3 meters. What a great place!
After watching the film, the next activity is photography. Taking selca in front of the theater building is a must, after all. Next, it is time to reach other stunning attractions nearby. So, it is better to come with a tour guide for a better tour. As for the tip, the theater opens from 7 am – 6 pm. It is possible to come earlier or later than that, but tourists must have made an appointment with the keepers.
Nearby Attractions
Sikendil Hill
Warna Lake
Ratapan Angin
Pangilon Lake
Arjuna Temple Complex
Tieng Viewing Post
How to Get There
From Wonosobo City, a trip to Kejajar Sub-district takes about 50 minutes and the distance is 19 km. The fastest route is definitely Raya Dieng Street. As for the medium, travelers can ride either a private car or public transportation service.
Where to Stay
Arjuna 2 Hotel
Budjono Hotel
Puspa Indah Hotel
Gunung Mas Hotel

Latest News
One of the many Dutch heritage forts, Van Der Wijck Fort is unique because the entire building is made of red brick. You've seen? This fort with an octagonal plan looks more charming with its red color, compared to Dutch forts which are generally colorless or white. It looks like the fort from the front and inside uses red bricks, but still with the characteristics of a Dutch fort in Indonesia which has a large building structure, such as windows, doors and rooms. With an area of 3606,625 square meters,…
---
Magelang has a number of temples as the favorite tourist destinations. Besides Borobudur, you can visit several other places, such as tourist villages. There are several tourist villages around Borobudur Temple with a unique and interesting atmosphere. In addition to saving nature, you can also get to know the culture behind it. Temanggung VillageTemanggung Village was viral because it was called Nepal van Java. The view of the village at the foot of Mount Sumbing is really epic. Tanjungsari VillageIf you are interested in the process of making honey, you…
---
Punuk Sapi BeachPunuk Sapi Beach is also popularly known as Pantai Lemah Abang which means "red land beach". It is named so because this beach is indeed filled with mounds to hills with red soil that at first glance looks like a cow's hump (punuk sapi is cow's hump in English). This beach has black sand, but it is also beautiful like the white sand beaches. There are hammocks and swings that you can use to relax, as well as take pictures from a height. This beach is located in…
---
Arjuna Temple complex is the most photographed and visited of the surviving temples on the Dieng Plateau. Situated just a few hundred meter from the homestays in Dieng village, they are an obvious first stop on a tour of the sights in the area. Though they are far from the most imposing of Javanese temples, they are the earliest surviving Hindu temples in Central Java, so they are of great importance historically. Built a century or two before the great temples around Yogyakarta and Magelang, they mark the original phase…
---